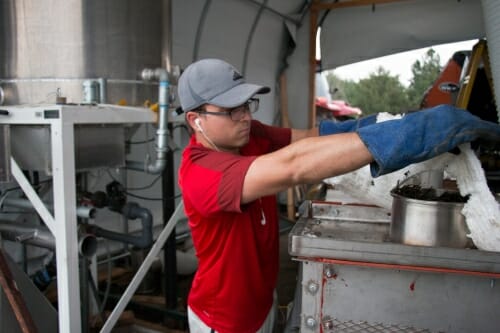 As you drive around a steel building at the West Madison Agricultural Research Station on Mineral Point Road, your nose informs you before your eyes do that you've found the outdoor laboratory of Scott Sanford, a University of Wisconsin–Madison agricultural engineer.
For three years, Sanford has been honing an energy-miser, continuous flow method to remove mint oil from tons of mint plants. Today, extraction occurs by injecting steam through a tub-load of chopped mint, in a two-hour process.
Mint oil – an essential flavoring for gum, toothpaste, mouthwash and tea – is grown by a dozen Wisconsin farmers on about 3,000 acres, usually on lowland, "muck" soils in the south-central part of the state. Nationally, 82,700 acres of peppermint and spearmint were grown in 2017, mainly in the Northwest.
In Sanford's tests, mint hay is unloaded from a wagon and metered into a 13-foot-long, steam-heated chamber where an 18" auger moves and mixes the hay. At the far end, the steam and oil are condensed, and then, in a separate tank, the oil floats to the top of the water and is drained off.
The pleasant, familiar scent of mint is concentrated into a cloying one under a temporary shelter, but to a mint farmer, that's the smell of money.
Then, as Sanford describes his search for a low-energy, continuous extraction process, an auger plugs, and instantly the afternoon program shifts from taking samples and analyzing productivity to disassembling and unplugging the auger, the centerpiece of Sanford's invention.
As UW–Madison senior biological systems engineering student Jack Kotte opens the system and pulls out the jam, Sanford says he's shown that oil can be extracted in only five or six minutes, versus a couple of hours for the conventional method.
Read the full article here.